Refrigeration Air Dryer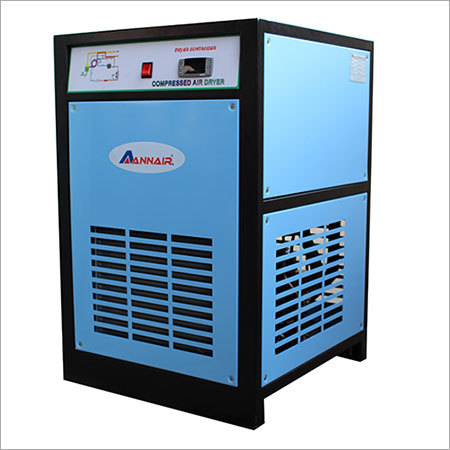 Refrigeration Air Dryer
Product Description
Refrigeration Air Dryer:
Refrigerated Air Dryer is used to dry compressed air that contains water to provide complete protection to pipes, tools and equipment. Its simple design and low maintenance cost make it ideal to be used in different commercial and industrial applications. This works by cooling down the air to about 3 degrees Celsius that enters the dryer in warm form. The water vapor present into the warm air is condensed into water. The liquid water is eradicated by a water-trap. Once the air is cooled and dried, it is re-heated to room temperature.

The cooling through this dryer is carried-out in the same process as it is done by freezer and fridge. The liquid refrigerant is evaporated for cooling down the warm compressed air in a different circuit. The air is cooled and refrigerant is warmed and compressed by a compressor and cooled in the condenser.


Types of Refrigerated Air Dryers:

They are available in two types, one is cycling and other is non-cycling. The prime advantage of this cycling dryer is its ability to increase or decrease the cooling capacity as per the air use. This kind of refrigerator reduces the consumption of energy. The non-cycling type of dryer is extremely reliable available with lowest maintenance costs.


Points To Keep In Mind Before Buying Refrigerated Air Dryers:

Maximum pressure should be the same, or higher than the compressor.
Maximum flow should be higher than the flow of compressor.
Dryers should have maximum specified inlet temperature
Maximum outside temperature
When saturated compressed air passes through the air heat exchanger, it gets cooled by the outgoing cold dry air. This effective pre cooler is designed to lower down the temperature considerably. It uses smaller & reasonable refrigeration system. After getting cooled, this relatively low temperature compressed air comes in Refrigerant heat exchanger and gets cooled down to +3oC.

This temperature helps the moisture to condense into liquid form and also gets separated from the compressed air using moisture separator. This air is then discharged to drain port with the aid of automatic drain valve.

The cold dry compressed air returns to Air to Air Heat exchanger for again gaining temperature with the aid of incoming warm air. This dry air is now ready to use for varied process air, instrumentation and other applications.


Features of Refrigerated Air Dryers:

Automatic design with maintenance free structure
CFC free
Continuous dew point at different loads
Designed with essential protectors for refrigeration as well as electrical systems
Eco-friendly refrigerant
High-end pressure switches
Low power consumption
Modern refrigerant system components
Two stage efficient moisture separation
User friendly structure with compact design to consume less floor space
Technical Specification (Silver star series):
Model no.
APSR 15
APSR25
APSR 45
APSR 60
APSR 80
APSR 100
APSR150
APSR200
APSR250
Capacity CFM
15
25
45
60
80
100
150
200
250
Working Pressure
Kg/cm2
16
16
16
16
16
16
16
16
16
Connections BSP (F)
1/2"
1/2"
1/2"
3/4"

3/4"
1"
1"
1"
1"
Refrigerant
R 134a
R 134a
R 134a
R 134a
R 134a
R 134a
R 22
R 22
R 22
Power supply
V/Ph
220/1
220/1
220/1
220/1
220/1
220/1
220/1
220/1
220/1
Condensor Type
Air
Air
Air
Air
Air
Air
Air
Air
Air
Nominal Power
Consumption (kw)
0.19
0.19
0.37
0.37
0.6
0.6
1.4
1.4
1.7
Dimensions (mm)
Length L
400
400
400
550
550
700
700
700
700
Depth D
500
500
500
550
550
750
750
750
750
Height H
550
550
550
730
730
900
900
900
900
Approx. Weight
(kgs.)
32
32
35
60
65
78
90
92
155
Model no.
AGSR-300
AGSR-400
AGSR-500
AGSR-600
AGSR-800
AGSR-1000
AGSR-1500
AGSR-2000
Capacity
CFM
300
400
500
600
800
1000
1500
2000
Working Pressure
Kg/cm2
14
14
14
14
14
14
14
14
Connections
BSP(F)
2''
2''
3''
3''
3''
4''
5''6
6''
Refrigerant
R 134a/R22
R 134a/R22
R 134a/R22
R 134a/R22
R 134a/R22
R 134a/R22
R 134a/R22
R 134a/R22
Power supply
V/Ph
220/1
440/3
440/3
440/3
440/3
440/3
440/3
440/3
Condensor Type
Air
Air
Air
Air
Air
Air/Water
Air/Water
Air/Water
Nominal Power
Consumption (kw)
1.7
2.3
2.3
3.1
4.2
5.8
7.8
9.9
Dimensions
(mm)
Length L
900
1000
1500
1500
1500
1500
1500
1500
Depth D
770
800
1500
1500
1500
1500
1700
1700
Height H
1250
1500
1750
1750
1750
1750
2250
2250
Approx. Weight
(kgs.)
155
164
250
250
360
400
640
770
Contact Us
Unit No. 101, I' Wing Plot-K1, Udyog Bhavan-2, Additional MIDC, Anand nagar, Ambernath East, Ambernath, Maharashtra, 421506, India
Phone :+918037268556